The New Voices: lekker bezig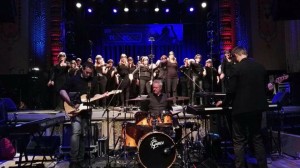 Af en toe mag ik van mezelf best eens trots zijn op een club van mij. Dit keer is The New Voices. Vooral uiteraard omdat het allemaal zulke leuke mensen zijn! Maar dit jaar zeker ook omdat ze het zo lekker doen bij wedstrijden.
Al een week na de voorstellingen mocht ik met hen in de Top-klasse (hoogste klasse) op het 2 jaarlijkse Balkfestival in De Doelen in Rotterdam verschijnen. Na enkele aanpassingen ten opzichte van de show traden wij op in de grote zaal. Tijdens de uitslag bleken wij als 3e van de deelnemerslijst uit de bus te komen!
Een maand later hebben zij voor de 4e keer meegedaan aan de Top2000 popkorenwedstrijd in Luxor, Arnhem. Deze 4e keer werd TNV 2e. Daarmee hebben ze van de 5 keer dat die jaarlijkse wedstrijd nu is geweest en mooie track-record opgebouwd. Twee maal eerste en twee maal tweede.
Voorlopig blijf ik denk ik nog maar eens lekker werken bij hen. 🙂