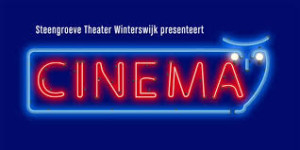 We mochten weer! Na een spannende tijd hoorden we in Oktober 2016 dat we als Steengroeve Theater weer in de steengroeve van SIBELCO iets moois mogen maken. Opnieuw weer samen met Jasper Korving verzinnen wat we precies gaan doen. Daarna arrangeren, organiseren, repeteren en dirigeren van deze hele fijne projecten!
Met 12.000 bezoekers opnieuw een groot feest. Het orkest bestond uit 75 gedreven musici. Het was een compleet Symfonie orkest én Big band in een. Daarbij was een koor van 50 mensen. En dan ook nog eens een cast van 60, zoveel meer dansers en vergeet niet alle vrijwilligers. Ook dit jaar was Steengroeve Theater weer een instant dorp!
Hieronder meer info:
Deze zomer, op wo. 9, vr. 11 en za. 12 augustus 2017 staat de Steengroeve in het teken van CINEMA; de betoverende en onbegrensde wereld van de film en de  prachtige melodieën die daarvoor geschreven zijn.
De glamour van het oude Hollywood, met haar vedetten in stijl op de rode loper, maar ook de hectiek van de hectische filmstudio's, waar ruimteschepen aan nylondraad neerstorten tegen rotsen van papier-maché en shot voor shot aan een nieuw meesterwerk wordt gewerkt.
Betreed onze filmset en beleef een avondvullend programma dat u meevoert vanaf de allereerste 'bewegende beelden' van de stomme film, via vrolijke slapstick en broeierige western naar blockbusters en moderne spektakelfilms. Beleef deze filmpremière in een uniek breedbeeld decor, in Technicolor en met surroundsound; met een grote beker vers gepofte popcorn erbij.
Sneak-preview:
Singin' in the rain, Amélie, Kill Bill, The Godfather, Titanic,  Jurassic Park, Pirates of the Caribbean en nog héél veel meer- gespeeld door Het Eerste Achterhoeks Metropoolorkest o.l.v. Gerben Kruisselbrink, in een regie van Jasper Korving.
Come with me, and you'll be in a world of pure imagination…
– Gene Wilder als Willy Wonka